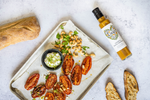 Lucy's Ginger and Sesame Dressing
8 large Plum Tomatoes, halved lengthways
125g Greek Yoghurt
Grated zest of 1/2 Lime
1½ tsp Lime Juice
Handful Coriander Leaves, roughly chopped
30g Cashew Nuts, toasted and roughly chopped

METHOD:
Preheat the oven to 170c/ 150c fan.
Place the tomatoes on a foiled lined baking sheet and drizzle generously with the dressing. Season with salt and black pepper. Place in the oven and roast for 2 hours basting a few times.
Meanwhile mix the yogurt with the lime zest, juice and ½ teaspoon of salt. Place in the fridge until ready to serve.
Place the tomatoes on a large plate. drizzle over the lime yogurt and top with coriander and cashews.