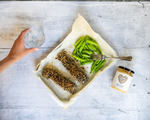 2 tbsp Black Sesame Seeds
2 Tbsp White Sesame Seeds
Pinch Chilli Flakes
1 Egg White
2 x 125g Salmon fillets, skinned
1 tbsp Olive Oil
Sugar Snap Peas, to serve
METHOD:
In a small bowl mix together the chilli flakes and sesame seeds and place on a plate. Place the egg white in a shallow bowl and beat lightly with a fork until frothy. Dip each piece of salmon in the egg white and then cover with the

 

sesame seeds until each piece is well coated. Refrigerate for 10 minutes.
Heat the oil in a large frying pan over a medium heat. Add the salmon and cook for 3 - 4 minutes on each side.
Serve the salmon with the sugar snaps and Lucy's Lime & Chilli Mayo.