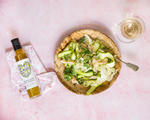 Lucy's Lemon and Caper dressing
250g Smoked Trout
2 Large Fennel Bulbs, trimmed
2 Courgettes, trimmed
1 large handful Mint Leaves, roughly chopped
1 large handful Dill, roughly chopped
1 tsp Fennel Seeds, toasted and roughly crushed in a mortar
Lemon Wedges
METHOD:
Cut the fennel in half and finely slice into 2mm slices using a mandoline if you have one and place in a large bowl.
Finely shave the courgette lengthways into 2mm slices and place in the bowl with the fennel. Toss together with a generous amount of Lucy's Lemon and Caper Dressing, mint, dill and fennel seeds.
Place on a large serving plate, top with large flakes of the trout and serve with the lemon wedges.