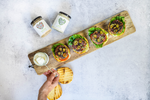 3 tbsp Olive Oil
1 Red Onion, finely chopped
1 large handful of Coriander , leaves and stalks chopped
1 tbsp Tomato Puree
2 tsp Ground Cumin
1 Red Chilli , finely chopped
1 tsp Sweet Smoked Paprika
2 x 400g Red Kidney Beans, drained
Zest of 1 Lime
(4 Tbsp Flour if looks wet )
To serve:
4 Burger Rolls
Jalapeno Chillies
Lettuce
Tomato Slices
METHOD:
Heat 1 tablespoon of the oil in a saucepan. Add the onion and gently cook for 10 minutes until soft.
Add  the garlic, coriander stalks, tomato puree, spices and chilli and cook for a further 2 minutes.
Place the beans in a bowl with the lime zest and mash with a fork, so that  some of the beans are well mashed and some left whole. Add the onion mix, coriander leaves and some flour if too wet . Season well with salt and pepper.
Divide the mixture into 4 and shape each into a burger about 2 cm thick. Chill for 1 hour.
Heat  the  remaining  oil in a large frying pan and cook the burgers over a medium high heat for 5 minutes each side until crisp and golden.
Place in the buns and top with lettuce, tomato and a good dollop of Lucy's Vegan Mayo .