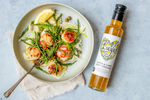 Sometimes you just can't beat simplicity. Butter, olive oil and a drizzle of Lucy's Zesty Lemon & Caper Dressing is all that's needed to bring out the stunning flavour of pan-seared scallops.
Serve with lemon wedges, rocket and crusty bread for a light supper or dinner party starter that's big on flavour.
INGREDIENTS:
12 scallops
25g butter
1 tbsp olive oil
Lucy's Lemon and Caper Dressing
Finely sliced red chilli (optional)
Rocket, lemon wedges and crusty bread to serve
METHOD:
1.To prepare the scallops remove the tiny side muscle .Rinse the scallops in cold water and pat dry with kitchen paper. Season with salt and pepper.
2.Heat the butter and oil in a large frying pan to a high heat. Add the scallops making sure they are not touching (you will have to cook in 2 batches).
3. Sear the scallops for 1 ½ minutes each side until each side is golden brown. Transfer to a serving plate .
4. Drizzle a generous amount of dressing over the scallops and top with chilli if using. Serve with lemon wedges, rocket and crusty bread.