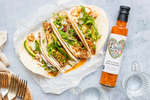 Who doesn't love taco night?! Lucy certainly does and she has just raised the bar with these insanely delicious crunchy fish tacos. Filled with a creamy Asian-inspired slaw made with Lucy's Lime & Chilli Mayo. 
INGREDIENTS:
500g cod cheeks or cod cut into about 12 pieces (3 x 10 cm)
50g panko bread crumbs
1 tsp smoked paprika
1 tsp ground cumin
1 tsp crushed coriander seeds
Salt and freshly ground black pepper
4 tbsp flour
1 large egg beaten
¼ red or white cabbage, finely sliced
1 avocado, sliced
1 small red onion
1 green chilli , finely sliced
Large handful of coriander leaves, roughly chopped
Lucy's Lime and Chilli Mayonnaise 
Sunflower oil for frying
4 soft tortilla or 8 small
Sour cream
Lime wedges
METHOD:
1. In a small bowl mix together the breadcrumbs with the smoked paprika, cumin, coriander seeds, Lucy's Lime & Chilli Dressing and salt and pepper. Transfer to a plate.
2. Put the flour on a plate and season with salt and pepper.
3. Put the egg in a shallow bowl.
4. Dip each piece of cod into the flour and shake of the excess. Now dip it into the egg, then into the breadcrumb mix to coat well. Place on a baking sheet lined with greaseproof and chill until ready to cook.
5. In a large bowl add the cabbage, avocado, onion, chilli and most of the coriander and add a good dollop of mayo. Gently toss to combine.
6. In a large frying pan add enough oil to rise ½ cm up the sides and place on a medium heat. Once hot, add the fish, in batches and fry for 5 - 6 minutes, turning halfway through, until crisp and golden. Transfer to a kitchen paper lined plate while you continue with the remaining batch of fish.
7. Heat a large frying pan and sear the tortillas for 30 seconds each side until warmed through.
8. Divide the slaw between the tortillas and top with the fish, remaining coriander and a dollop of sour cream. Serve with lime wedges.