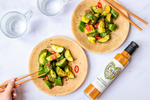 Have you tried smacked cucumbers yet? We're really glad that Lucy jumped on the hype because they are refreshingly delicious… especially when drizzled with our Ginger & Sesame Dressing!
INGREDIENTS:
1 large cucumber
Lucy's Sesame and Ginger Dressing
1 tbsp black sesame seeds
1 tsp Aleppo chilli flakes
Handful mint leaves, roughly chopped
METHOD:
1. Slice the ends off the cucumber, then slice in half lengthways. Place the cucumber cut side down and using the flat side of a large knife, lightly 'smack' them until bruised but holding their shape.
2.Cut the cucumber diagonally into 1 cm slices and transfer to a bowl. Stir in ½ teaspoon salt and leave to sit for 20 minutes. Drain the cucumber and transfer to a shallow bowl.

3.Toss the cucumber in  a generous amount dressing and half the mint. Top with the remaining mint, sesame seeds and chilli.