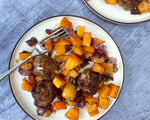 8 Pork sausages, skins removed
1 tsp fennel seeds, crushed
Sage leaves, chopped to make 1 tbsp
500g butternut squash, peeled and cut into bite-sized pieces
2 small red onions, cut into wedges
100ml Chicken stock
METHOD:
1. Heat the oven to 190C.
2. Put the sausagemeat, fennel and 1 tbsp of sage in a bowl and mix together.
3. Divide into 6-8 meatballs and place onto a lined baking tray.
4. Sprinkle the chopped squash and onions around the meatballs.
5. Drizzle generously with Lucy's Honey Mustard Dressing.
6. Bake for 30-40 minutes, or until the squash is tender and the meatballs are browned and cooked through.
7. Pour in the stock and cook for another 10 minutes.
8. Serve sprinkled with chopped sage or sprigs of rosemary.