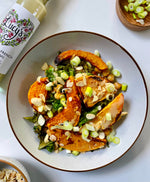 This satisfying chickpea, kale and squash salad is a great Autumn lunch that can be made in advance. The squash is roasted until it's soft on the inside with a crispy exterior. Served over a creamy chickpea and kale mixture, topped with toasted almonds and spring onions, and finished with a drizzle of Lucy's Original French Dressing.
INGREDIENTS:
400g Butternut squash, peeled and sliced into wedges
2 tbsp Cotswold Gold Cold pressed rapeseed oil
1 jar Bold Bean Co Chickpeas
2 cups Kale, stalks removed and chopped
3 tbsp Lucy's Original French Dressing
2 Spring onions, finely sliced
Sliced almonds
Salt and pepper to taste
METHOD:
1. Preheat the oven to 200c. 
2. Spread the butternut squash wedges evenly across a roasting tray. Drizzle with 1 tbsp of oil and season with salt. Bake in the heated oven for 20 minutes, then turn the squash slices over and return to the oven for another 10 minutes until tender and lightly browned on the edges.

3. In the meantime, rinse and drain the chickpeas. Add them to a medium-hot frying pan with 2 tbsp of Lucy's Original French Dressing, salt and pepper. After 3-4 minutes, add in the chopped kale and cook for a few minutes, until the leaves have wilted but they're still crisp. Set aside.
4. Lightly toast the sliced almonds in a hot pan until just turning golden brown. This should take 1-2 minutes.
4. Place the chickpeas and kale into a serving bowl. Top with wedges of roasted squash and drizzle with 1 tbsp of Lucy's Original French Dressing. Sprinkle over the sliced spring onions and toasted almonds.
If you love this recipe, you'll love our Kale and roasted cauliflower with halloumi croutons recipe.