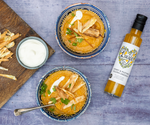 Making flavourful homemade soups has never been easier, thanks to Lucy's  deliciously sweet and tangy Honey & Mustard Dressing! A classic flavour combination, this winter warmer is a longstanding family favourite.
INGREDIENTS:
2 large Onions
4 large Parsnips (plus extra for parsnip crisps - optional)
3 medium Carrots
1 vegetable Stock Pot
100ml Water
Lucy's Honey & Mustard Dressing
METHOD:
Preheat the oven to 200°C.
Scatter the sliced onion and root vegetables over a roasting pan and drizzle with Lucy's Honey & Mustard Dressing. Give a shake to coat and place in the oven.
Bake for 20-30 minutes until golden and soft.
Remove from the oven and put vegetables into a blender. Add the stock pot, water and an extra drizzle of Lucy's Honey & Mustard Dressing.
Blend until smooth, pour into a saucepan and bring to a slow simmer before serving with homemade parsnip chips, fresh herbs and sour cream.