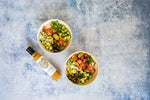 Lucy's Ginger and Sesame Dressing
300g very fresh boneless Salmon
1 ripe Avocado
½ Cucumber, halved
100g Cherry Tomatoes, halved
2 Tbsp Wakame (or similar dried seaweed), rehydrated
Black Sesame Seeds
2 Spring Onions, finely sliced
1 Green or Red Chilli , finely sliced
Micro Coriander
Lime Wedges
1 Packet ready cooked Tilda Basmati Rice (Brown or White)
METHOD:
Cut the salmon into 2.5cm cubes and transfer to a bowl. Drizzle over a generous amount of Lucy'd Ginger & Sesame Dressing and set aside for 5 -10 minutes.
Slice the avocado and cucumber.
Divide the rice between two bowls and top with the salmon, avocado, cucumber and cherry tomatoes. Drizzle over extra dressing and top with the sesame seeds, spring onion, chilli and coriander. Serve with lime wedges.