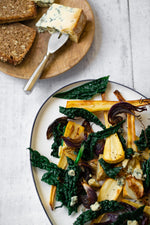 This roasted parsnip, cavolo nero and jerusalem artichoke is super easy to prep for a midweek meal and what we love about it is the leftovers are perfect for lunch al desko the next day. We've topped it with some crumbled stilton for some added deliciousness and drizzled it with our Classic House dressing, a dreamy combination!
INGREDIENTS
4 Parsnips, peeled, trimmed and cut into 6cm and 2cm wide wedges
2 red onions, peeled and each cut into 6 wedges
2 garlic cloves, crushed
2 tbsp olive oil
4 sprigs of thyme
500g Jerusalem Artichokes, peeled and cut into 3cm wedges
200 g Cavolo Nero, stalks removed and leaves cut into 4 cm pieces
25g parsley , roughly chopped
Lucy's Classic House Dressing
50g Good Quality Stilton
METHOD
Preheat oven to 220 / Gas 7.
Mix together the parsnips, onions, garlic, oil, thyme and artichokes in a large bowl and season with salt and pepper. Place on large baking tray and transfer to oven.  Roast for 35 - 40 minutes until cooked and golden brown.
Meanwhile, bring a large pan of water to the boil. Add the cavolo Nero and blanch for 2 minutes. Drain and refresh and pat dry. Add to the roasted vegetables and roast for a further 5 minutes.
Transfer the vegetables to large serving plate, drizzle over the dressing and sprinkle over the parsley.