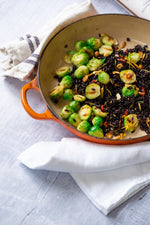 1 packet of Riso Gallo Venere Black Rice
3tbs groundnut oil
3cm piece ginger, peeled and julienned
2 cloves garlic, peeled and thinly sliced
2 red chillies, seeded and finely sliced
55g peanut, skin on 
1 tbsp toasted sesame seeds
500 g Brussel sprouts, trimmed and cut in half lengthways
20g Coriander
Lime
Lucy's Ginger and Sesame Dressing
METHOD
Cook the rice to packet instructions and keep warm.
Heat the groundnut oil in a large non-stick frying pan over medium heat. Add ginger, garlic and chilli and fry for 2 minutes. Add the peanuts and fry for a further 3 minutes until everything is golden brown and crisp. Transfer to a small plate with a slotted spoon keeping the oil in the pan. Mix the sesame seeds and a pinch of salt into the peanut mix.
Return pan to a high heat, add the sprouts and a pinch of salt. Fry for 6 - 8 minutes stirring often or until the sprouts are dark golden brown and crisp. Removed from the heat and stir in 3 - 4 tbs of dressing.
Stir another 2 tbs of dressing into the rice and then spoon onto a large shallow bowl and top with the sprouts. Squeeze mover the juice of the lime and sprinkle over the coriander. Top with the crisp chilli and peanuts.