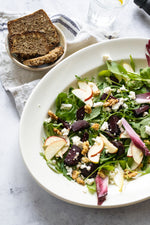 This roasted beetroot, apple, walnut and goats cheese salad is the most delicious salad and for us it really is Autumn on a plate. We've finished the salad with a good drizzle of our Original French, which you can pick up at Waitrose stores nationwide. 
Ingredients:
4 medium beetroots, cut into 1 cm wedges
1 tbsp olive oil
250g Chicory, trimmed and leaves separated
50g rocket
2 red apples, thinly sliced
25g chives roughly chopped
100g goats cheese
75g walnuts, lightly toasted
Lucy's Original French Dressing
 Method:
Preheat the oven to 200c / Gas 6.
Put the beetroot on a baking sheet lined with baking parchment and toss with the olive oil. Season and roast for 30 -35 minutes, turning once, until tender and slightly charred around the edges. Allow to cool.
Place the salad leaves on a large shallow plate. Top with the beetroot, apples , walnuts, chives and crumble over the goats cheese. Drizzle generous with the dressing.