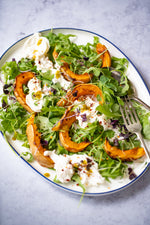 Adding seasonal roasted vegetables to your autumnal salads adds a satisfying hit of goodness! Here, roasted squash and creamy b are complemented by a drizzle of our herby Green Pesto Dressing.
INGREDIENTS
1 medium Butternut Squash
2 tbsp Rapeseed Oil
½ tsp Chilli Flakes
1 ball Burrata
50 g Rocket
METHOD:
Preheat the oven to 200c / gas 6.
Cut the squash in half lengthwise and then into 1cm wedges. Place on large baking tray and drizzle over the oil. Sprinkle over the chilli flakes and season with salt and pepper. Place in oven and roast for about 30 minutes, checking after 15 minutes, or until squash is tender and golden brown at the edges.
Place the butternut on a large serving plate and allow to cool.
Tear over the Burrata and top with the rocket.
Drizzle over the dressing, a few extra chilli flakes and micro herbs to garnish.
Serve.
If you love this recipe made with Lucy's Green Pesto Dressing, check out thes Gnocchi, broccoli and mozzarella bake.