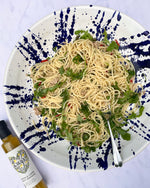 A quick, simple and tasty pasta recipe made with just 8 ingredients, perfect for the whole family!
⠀⠀⠀⠀⠀⠀⠀⠀⠀
INGREDIENTS
225g Spaghetti
1 tin Tuna in spring water
3 tbsp Lemon & Caper Dressing
1/2 Red chilli, deseeded and sliced thinly
2 tsp Capers
Handful Rocket
1/2 Lemon
3 tbsp Parsley
Salt & Black Pepper
⠀⠀⠀⠀⠀⠀⠀⠀⠀
METHOD:
1. Bring a pot of water to the boil with a drizzle of olive oil and a pinch of salt.
2. Add the spaghetti to a large pot of boiling water and follow the suggested cooking time on the packet. Drain and steam dry once cooked.
3. In the meantime, mix together the tuna, dressing, capers and half the sliced chilli.
4. Add the cooked pasta to a large serving bowl and stir through the tuna mixture.
5. Top with the rest of the chilli, rocket, a squeeze of lemon and parsley.
6. Season with salt and pepper to taste and mix gently before serving.
If you love this recipe made with our Lemon & Caper Dressing, you'll love Lucy's Crab crostini and Seared Scallops, both made with our zesty Lemon & Caper Dressing.