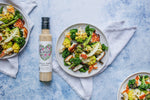 Croutons just got a SERIOUS UPGRADE! We've been making these halloumi croutons on repeat and we can't wait for you to try them! A rich, creamy addition to this simple Kale and Roasted Cauliflower salad drizzled with Lucy's Original or Light French Dressing.
INGREDIENTS 
1 Cauliflower, trimmed and cut into florets
1 tbsp Olive oil
250g Halloumi, sliced
4 sprigs Oregano
40g slivered Almonds, toasted
250g Kale, stems removed and leaves  torn into small pieces
Lucy's Original French Dressing or Light
25g Raisins
1 tsp Lemon zest
METHOD
1. Preheat the oven to 220c / 200c fan.
2. Place the cauliflower florets in a large bowl with two tablespoons of oil and toss to coat. Season generously with salt and pepper. Place on a large baking tray lined with greaseproof paper. Roast for 20 minutes.
3. Place the halloumi and oregano into the bowl with the remaining olive oil . Toss to coat and arrange over the cauliflower. Roast for a further 20 minutes or until the  halloumi and  cauliflower are golden.
4. Meanwhile place the kale in a large bowl with the raisins and lemon zest . pour over a generous amount of dressing and using your hands rub the dressing into the kale for about 5 minutes or until the kale has softened.
5. Place  the kale onto a large serving plate, top with the warm cauliflower and haloumi and sprinkle over the almonds.