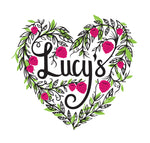 Whether you love it, or loathe it, Valentine's is just around the corner, and what better way to celebrate than with some delicious sharing foods, whether you're celebrating a Valentine, Galentine or Palentine. Here at Lucy's we think there is no need to buy into the supermarket ready meal packages, when these dishes are so quick and simple and made with love. 
Our three favourite dishes this year, which we will be making are: 
Marinated Spatchcock Poussin served with roasted potato salad with anchovies and parsley . 
This delicious marinated poussin recipe served with crispy roasted potatoes and anchovies, is the perfect date night food. Serve on a beautiful wooden board with a skillet of the potatoes next to the poussin for the ultimate rustic meal for two. 
Marinated Char-Grilled Prawns with coriander yoghurt 
Juicy char-grilled prawns marinated in Lime and Chilli Asian dressing makes for the perfect Valentine's supper for two. Buy your prawns with the shells on from your local fishmonger to ensure their the freshest you can get, meaning you'll get the most delicious flavour. 
 Puy lentils with roasted red onion and goats cheese salad 
A delicious vegetarian main course salad perfect for sharing, drizzle with our Classic Balsamic dressing for the ultimate cosy night in treat.
Which recipe will you be trying this Valentine's Day? Make sure to tag us on Instagram showing us your delicious creations! 
 Love, Lucy's Dressings x