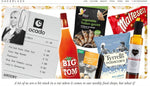 We were so excited to see our Lime and Chilli Asian dressing feature in a recent article on one of our favourite lifestyle websites Sheerluxe. The series is designed to give their readers inspiration by having a good nosy in other people's weekly shops and in turn hope that individuals can get out of their weekly cooking rut. 
This week it was Georgie Coleridge-Cole, founder of Sheerluxe who's weekly basket was getting the once over. We loved having a good snoop and seeing what weekly time saving hacks she uses, from always having a Merchant Gourmet pouch of grains to hand, to bag of frozen Itsu dumplings in the freezer. Our Lime and Chilli Asian dressing, we think is the ultimate time saver and is made using only ingredients that you'd put in your cooking yourself. Georgie says that it is 'great in a salad with edamame beans or with a stir fry;' perfect for midweek suppers.  
All this month, our Lime and Chilli Asian dressing is also on offer in both Waitrose and Ocado , so it's the perfect time to try out Georgie's suggestions! 
Head over to our recipe section to get some inspiration for how to use our Lime and Chili Asian dressing - we've just added a new recipe that would be perfect for a quick and easy weekday meal using leftovers from your Sunday roast chicken! 
Thank you to Sheerluxe for including us in your article and to see the rest of Georgie's Ocado shop suggestions head to the Sheerluxe website.