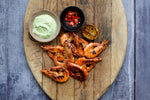 Juicy char-grilled prawns marinated in Lime and Chilli Asian dressing makes for the perfect Valentine's supper for two. Buy your prawns with the shells on from your local fishmonger to ensure their the freshest you can get, meaning you'll get the most delicious flavour. 
Ingredients:
Lucy's Lime and Chilli Asian Dressing 
6 Large Raw Tiger Prawns
25g Coriander
1 clove garlic
100g Greek Yoghurt
Method: 
1. Heat a char-grill pan or BBQ until very hot. 
2. Thread the prawns onto metal skewers and put on a large plate. Drizzle over the dressing and leave to marinade for 10 minutes. 
3. Place the coriander and garlic into the small bowl of a food processor and whizz until finely chopped. Add yoghurt and pulse until just combined. Transfer into a small bowl until ready to serve. 
4. Place the prawns in the pan and cook for 2-3 minutes on each side until lightly charred and cooked through. Serve immediately with the yoghurt dipping sauce.