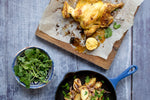 This delicious marinated poussin recipe served with crispy roasted potatoes and anchovies, is the perfect date night food. Serve on a beautiful wooden board with a skillet of the potatoes next to the poussin for the ultimate beautiful rustic meal for two.
Ingredients: 
Lucy's Ginger and Sesame Dressing
Lucy's Lemon and Caper Zesty Dressing
1 Poussin 
Wedges of lime to serve 
450g red skin potatoes
1 tin of anchovies, roughly chopped
Large handful of flat leaf parsley, roughly chopped 
Steve's Leaves peashoots and watercress 
Method:
1. Preheat the oven to 200 degrees. 
2. Parboil the potatoes for 10 minutes, drain and cut in half lengthways. 
3. To spatchcock a poussin place on chopping board breast side down. Using a sharp pair of scissors cut close to each side of the back bone to remove. Turn the poussin over and push down with your hand to flatten the bird. 
4. Place the poussins in large roasting tin and drizzle generously with the dressing and rub all over. Season with salt and pepper. Make sure the poussins are breast side up. 
5. Place the potatoes on another large baking tray and drizzle over Lucy's Lemon and Caper Zesty Dressing. 
6. Place both the poussin and potato trays in the oven and roast for 45 minutes. 
7. Transfer the potatoes to a serving dish and sprinkle over the anchovies and parsley. Season with salt and pepper.
8. Serve the poussin on a wooden board, alongside the potatoes and Steve's Leaves watercress and pea shoots. Drizzle the leaves lightly with Lemon and Caper Zesty dressing just before serving.