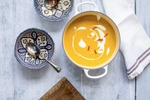 We've put together three of our favourite recipes that are perfect to make using ingredients that you may have already in your cupboards or fridges, but are a little unsure what to whip up with them. 
Please note that all our recipes at the moment are written with ingredients that they would 'ideally' be made with - however, if you need any recommendations on substitutions, just let us know or if you're missing certain ingredients, don't worry, this will be delicious however you can or choose to make it! 
First up, this super simple penne pasta made with our green pesto dressing, griddled courgettes and mozzarella. Equally delicious cold the next day, perfect for working from home lunches. 
INGREDIENTS:
300 g penne pasta
2 tbs olive oil
3 courgettes cut on the diagonal into 1 cm slices
1 ball buffalo mozzarella bocconcini
Lucy's Green Pesto Dressing
METHOD:
Heat a large pan of water until boiling. Add the pasta and cook for 12 minutes until al dente.
Heat the oil in a large frying pan. Fry the courgettes in batches for about 3- 4 minutes, turning once, until golden on both sides.
Drain the pasta and return to the pan. Stir in a generous amount of dressing.  Gentle stir in the courgettes and mozzarella and spoon into bowls. 
Next up, smoked mackerel and spinach fishcakes. Smoked mackerel is a cheap and delicious alternative if you're struggling to find your usual cut and type of fish. Perfect for using up that leftover mash as well, or if you've just got some extra potatoes at the bottom of your fridge! 
INGREDIENTS:
Lucy's Blushing Beetroot Relish
400g mashed potato
250g smoked mackerel fillet
100g baby spinach , wilted
2 tbs plain flour,
1 egg, beaten
85g dried breadcrumbs
METHOD: 
In a large bowl mix together the potato, mackerel and spinach. Season with salt and pepper and shape into 4 large or 8 small even -sized cakes.
Roll the fishcakes in the flour, shaking off any excess, then dip in the egg followed by the breadcrumbs. Cover and chill until ready to cook.
Gently fry the fishcakes for 5 minutes on each side until crunchy, golden and hot all the way through.
Serve the Fishcakes with Lucy's Blushing Beetroot and a wedge of lemon.
Finally, a delicious warming soup made with our Lime and Chilli dressing. This is a great recipe to batch cook and then your working from home lunches are sorted for the week... one less thing to worry about!
INGREDIENTS:
Lucy's Lime and Chilli Asian Dressing 
1 butternut squash, cut into wedges and seeds removed
1 large onion, finely chopped
2 tbsp coconut oil
400ml coconut milk
500ml vegetable stock
Coconut yoghurt
Handful of fresh coriander, leaves roughly chopped
1 fresh chilli, sliced. 
METHOD:
1) Preheat the oven to 220c
2) Place the butternut on a large baking tray and drizzle over the dressing. Place in oven and roasted for 45 mins or until lightly charred and soft.
3) Meanwhile, heat the coconut oil in a large saucepan and cook on a very low heat until the onions are soft.
4) Add the roasted butternut to the onions and stir to combine. Pour in the coconut milk and stock and bring to the boil. Simmer gently for 15 minutes.
5) Blend the soup using a hand held blender or in a food processor. 
6) To serve reheat the soup gently and ladle into bowls. Top with a spoonful of yoghurt and sprinkle over the coriander and chopped chillis.