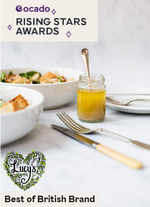 We are so excited to have been nominated for an Ocado Rising Star Award; however, we need your help! 
We've been nominated in the Best British Brand category, and we have some stiff competition, so every vote really does count!
If we win, we win a whole pack of free advertising spend for the Ocado website, which will really help us get our brand out to more customers. We would be so grateful for your vote, so please do follow this link to vote for Lucy's! 
Plus for your vote, Ocado will enter you into a draw to win 1 year's supply of free grocery. Voting closes on the 23rd April. 
Thank you so much in advance!