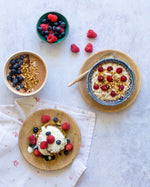 How are you spending that extra hour each morning, where you'd usually be squashed up on the tube? Cooking a delicious breakfast, doing an at home workout, reading in bed? We may not be able to help with a virtual workout (though we can try!), we can certainly help you up your breakfast game!
We've put together some of our favourite recipes for brekkie that are not only super quick and easy to whip up, but are also perfect to get the kids involved in the kitchen. 
Lucy's Cacao Overnight Oats
Ingredients: 
1/2 cup oats
1/2 tsp chia seeds
1 tbsp cacao powder
2 tbsp yoghurt 
120ml almond milk
Optional toppings: Blueberries, nutty granola, almond butter and toasted coconut flakes. 
Method:
Mix together the oats, chia seeds and cacao powder in a jar. Add the yoghurt and milk and stir.
Leave in the fridge over night to thicken. 
In the morning, top with your favourite toppings.
We absolutely love this recipe as you can totally customise it with whatever toppings you have lying around in your cupboards or fridge! 
Lucy's Bircher Muesli 
 1/2 cup of oats

 1 tbsp yoghurt (coconut if vegan)

 2/3 cup of almond milk

 Pinch of cinnamon

 1 tsp of maple syrup

 1 tbsp pumpkin seeds

 1 tbsp of sultanas 
Optional toppings: Seasonal berries, nut butter, granola, cacao nibs & banana

Method:
Mix together the oats, pumpkin seeds, sultanas and cinnamon in a jar. Add the yoghurt, milk and maple syrup and stir.
Leave in the fridge over night to thicken. 
In the morning, top with your favourite toppings.
This is the perfect breakfast for a quick and easy breakfast if you're also planning on squeezing in an early morning at home workout. We're big fans of overnight oats and bircher muesli here at Lucy's and Ursula for one, is keeping up her usual office breakfast on the go during this working from home period. 
Banana Pancakes
1 banana

1 egg

1/4 cup of oats

1/4 tsp of baking powder

Coconut oil for frying
Optional toppings: Seasonal fruit, yoghurt, maple syrup, nut butter, etc.
Method: 
Smash the banana. Add the egg, oats and baking powder and mix to form a batter.

Heat your frying pan with a tsp of coconut oil. Using a tbsp, spoon your batter out onto the pan.

Once the batter starts bubbling, flip the pancake and cook the other side.

Continue doing this until all the batter is finished. Serve warm with your choice of toppings.
These pancakes are perfect for a lazy brunch at home and are so quick and easy to make - the perfect way to get your kids eating more fruit too! 
Lucy's Coconut Granola

3 cups of oats

1/2 cup coconut flakes

1/2 cup almonds

1/2 cup of melted coconut oil

1/4 cup of maple syrup
Method
Preheat your oven to 150 degrees and line a baking tray with greaseproof paper.

Place all your ingredients on the baking tray and mix so everything is coated in the coconut oil & maple syrup. 

Bake in the oven for 45 minutes, mixing every 15 mins. Your granola should be slightly browned and crunchy to bite.
This granola is great to make on the weekend and then filling up a kilner jar ready to go, which will see you through the week and those cheeky mid morning snacks, we're all indulging in now we're working at home! This is delicious with yogurt or adding a small handful to your overnight oats or just simply eating straight from the jar - we just can't get enough of this granola! 
We'd love to know if you make any of these delicious breakfast recipes, so please do tag us in any of your creations, we love to see them!
Lucy's Dressings x