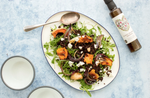 This salad is great to rustle up with odd bits you may have lying around in your fridge and cupboards. Grains and roasted vegetables are a great way to bulk out your salads, and of course we've finished this with a good drizzle of Lucy's.
INGREDIENTS:
Lucy's Classic Balsamic Dressing
1 small butternut squash, halved, deseeded and cut into 2cm wedges
2 red onions, each cut into 8 wedges
3 tbsp olive oil
250g Merchant Gourmet puy lentils
100g rocket
125g goats cheese or any soft cheese 
Method: 
1. Preheat the oven to 220c
2. Place the butternut and onions onto a large baking tray and drizzle over the olive oil, mix well and roast for 30-40 minutes until golden.
3. Place the lentils into a medium sauce pan and pour over the dressing. Warm the lentils for 2-3 minutes adding a splash of water if necessary.
4. Place the warm lentils on a large serving dish and stir through the squash and onion, before seasoning with salt and pepper. Top with the rocket and crumble over the goats cheese.