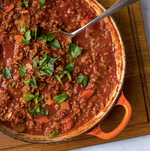 At times like this, sometimes all you want to do is curl up on the sofa, whilst a big batch of bolognese simmers on the stove! We make this extra tasty by adding a glug of our Classic Balsamic dressing before we reduce the heat and leave to simmer for at least 45 minutes - utterly delicious. 
INGREDIENTS
1 large red onion, finely sliced
2 garlic cloves, minced
400g beef mince
2 carrots, peeled and finely diced
2 celery stalks, finely chopped
4 rashers of bacon, chopped
1 glass of red wine
2 tins of good quality tinned tomatoes
Tbsp of caster sugar
2 tbsp tomato puree
Lucy's Classic Balsamic
Lea & Perrins
Rosemary
METHOD:
1.Place a large saucepan over a low heat and fry your bacon. Once its cooked
through add your chopped onions, rosemary, carrots, celery and garlic with a
generous drizzle of Classic Balsamic.
2.Cook for ten minutes until the onions are translucent and carrots soft. Add the
mince and cook for five minutes, until the meat is browned and cook through.
3. Add the wine, tinned tomatoes, salt & pepper, caster sugar, tomato puree and Worcestershire sauce.
4. Leave to simmer on a low heat for at least 1 hour, until the sauce has reduced
and thickened.
5. Serve with spaghetti, or any pasta you have in the cupboards!