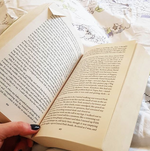 The Lucy's team love a good book, and now more than ever, we're searching for inspiration on what our next read will be! Each member of the team has written a little bio on what they're currently reading, the last book they read, and what's on their bedside table ready to go next.
Lucy (Founder) 
'I'm just coming to the end of Fleishman Is in Trouble by Taffy Brodesser-Akner.'
This book will give you a great taste of New York without leaving the house. Told from quite an unreliable perspective, this will make you think about the people in your life and what is really going on with them. Surprisingly funny, and very perceptive! 
May (Operations) 
Currently reading: The God of Small Things:  'I've only just started this book as in truth I've been distracted by coronavirus related news. I don't like to read what the books are about before I read them (if I've been recommended them) so I have no idea what is to come from this book...'
Last read:
The Dutch House:
 '
The story telling of this book is unique in the way that the life story of family is based around the narrative of their childhood home. As someone who is very sentimental about the places I grew up I really enjoyed this book, although its not a book where anything really 'happens' as it were.'
Ready and waiting on my bedside table: 

'
I have a long list of books on my phone that I want to read, as I have a kindle this is my virtual bedside table. Initially next on my list was 'The book you wish your parents had read'. However in light of current circumstances I think I might read George Orwell's 1984.'
Currently reading: This Book Will Save Your Life: 'It's about a man breaking free from his strict lifestyle routine, wedded to work and diet, but finds happiness in a doughnut shop following a visit to A&E, which gives him a wake up call.' 
Last read: The Women in the Window: 'Not as good as girl on the train. About a women who experiences trauma and finds herself unable to leave her house following the incident. The book revolves around a series of events seen through her window and her ongoing powerlessness to do anything about it.' 
Ready and waiting on my bedside table: 'The latest Waitrose monthly magazine, obvs!' 
Ursula (Marketing) 
Currently reading: Unnatural Causes: 'This may not be the most uplifting book to be reading at the moment as my sister told me when I picked it up in the supermarket. However, this book as the strap-line says 'follows the life and many deaths of Britain's top Pathologist', and is an oddly enthralling read. I absolutely loved 'This is going to hurt' and this seemed like a good option to follow on my non-fiction medical reading with!' 
Last read: Flatshare: 'This was the March book with an Instagram book club account I follow along with. An enjoyable book and total escapism from the news; I was surprised that this was more than just 'chick lit' and had various plot-lines running in tandem together, creating a fun and easy read. 
Ready and waiting on my bedside table: 'After I finish the book on pathology, I will be trying to keep my reading light as a distraction from the news! My sister sent me quite a few books in the post, so these have gone next to my bed ready to read, titles include 'Our Stop', 'Never Greener' and 'Crazy Rich Asians.' Other books next to my bed, are 'Salt, Fat, Acid, Heat' which I'm dipping in and out of, fascinating read but lengthy - discusses each as the four key components of cooking and how in all cooking you need the four to be balanced. I also have 'The Tattoo of Auschwitz' and 'Three Women' waiting to be devoured as well - better get a move on, so I can get some floor space back!' 
Instagram Book Accounts:

We also thought it would be nice to do a little shoutout to a few Instagram book accounts, if you're still searching for a little more inspiration for your reading!
Littlerary Reviews: We love this account, the pictures are beautifully styled and the reviews of the books are always so well thought out. The books I've read from this account, which have been positively reviewed, have always been thoroughly enjoyable! Thanks Littlerary Reviews! 
Beth's Book Club: This is the book club that Ursula follows along with on Instagram. The reads are normally always light and current, and it's fun to follow along with other people and hear their insights on what you're reading - a bit like A Level English! Also, given the current circumstances, they've added in a new book each month, so one runs beginning to the end of the month, and one runs mid-month to mid-month, no excuse not to power through those pages! 
The Post-It Review: This account, as the name suggests, reviews books on a post it note - clear and concise, this is one aesthetically pleasing feed! All reviews are 30 words or less, and her choice of books spreads many genres, so there's something for everyone! 
Reese's Book Club: Run by Elle Woods herself, Reese Witherspoon, if you're looking for a giant book club, this is the one for you! Each month Reese picks a book she loves with a female lead at the centre of the story - this month's book, The Jetsetters, which is described as 'this literary adventure centres around an elderly mother who attempts to reconnect with her three adult children while on a European cruise. Along the way, secrets are revealed, baggage is unpacked and sibling dynamics prove that the Perkins family is far from perfect.'
 We'd love to know what you're currently reading! 
Lucy's Dressings x 
All images kindly from Littlerary Reviews, do follow her here!