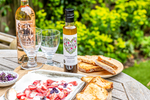 Simply pop juicy British strawberries into a preheated oven with a generous amount of Lucy's Classic Balsamic Dressing for 20 minutes. Whilst they are cooking, prepare your whipped feta by blending feta, greek yogurt, lemon juice and olive oil in a food processor until smooth.
Once the strawberries are cool, serve them over the whipped feta with fresh basil, cracked black pepper, a drizzle of extra virgin olive oil and chunks of crusty sourdough. You simply cannot beat this gorgeous summer dish!
INGREDIENTS:
 600g ripe strawberries
200g feta cheese
200g plain greek yogurt
Juice of half lemon
2 tbs olive oil
Handful of basil leaves
Freshly ground black pepper
Sourdough bread to  serve
METHOD:
1. Preheat the oven to 200c fan.
2. Place the strawberries in a baking dish and drizzle over a generous amount of the dressing. Place in the oven and roast for 20 minutes, tossing halfway through, until soft and bubbling. Remove from the oven and allow to cool.
3.To make the whipped feta, place the feta, greek yogurt, lemon juice and oil in a food processor and blend for 1- 2 minutes until smooth . Transfer to a bowl and chill for one hour.
4.When ready to serve, tear the basil over the strawberries and transfer to a shallow bowl. Top the whipped feta with black pepper and a drizzle of extra virgin olive oil. Serve with chunks of sourdough.