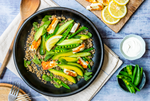 You just can't beat a crispy piece of halloumi! Thanks to our friends at Merchant Gourmet, this classic Quinoa & Halloumi Salad is ready in under 10 minutes! We just LOVE their ready-to-eat Red & White Quinoa, especially when it's paired with Lucy's Light & Tangy French Dressing, which is light in calories but heavy on flavour.
INGREDIENTS:
 250g packet Merchant Gourmet ready to eat Quinoa Red and White
Lucy's Light and Tangy French Dressing
150g sugar snap peas, trimmed, blanched and halved
3 baby cucumbers, quartered
1 avocado, sliced
Large handful flat leaf parsley , roughly chopped
Handful mint leaves , roughly chopped
1 tsp olive oil
250g Halloumi, sliced
100g Greek yogurt
Lemon wedges to serve
METHOD:
1. Place the quinoa in a large bowl and stir in a generous amount of dressing. Add the herbs, season with salt and pepper and toss to combine.
2. Heat the oil in a frying pan over a medium heat. Add the haloumi and cook for 1 - 2 minutes on each side or until golden.
3. Place the yogurt in a small bowl and stir in two tablespoons of dressing.
4. Divide the quinoa, sugar snap peas, cucumber, avocado between 2 plates. Drizzle over the yogurt dressing and top with the halloumi and serve with lemon wedges.