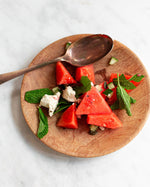 We're often asked what is the best way to use this dressing, as the dressing has no added sugar besides what naturally occurs in the fruit and is also made with raspberry vinegar, it works deliciously with soft cheeses, green salads and avocados - and of course this salad too!
Ingredients
1 small watermelon
200 g feta
50g pumpkin seeds, toasted
Handful mint leaves , roughly chopped
Lucy's Fresh and Tangy Raspberry Dressing
Method
Cut the watermelon into thick wedges and arrange on a large platter.
Crumble over the feta and sprinkle over the pumpkin seeds.
Drizzle over the dressing and top with the mint. Serve immediately.