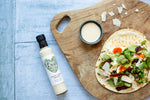 Our Creamy Caesar dressing is one of our new additions to the Lucy's family and is now available on Ocado! A delicious way to use up any leftover caesar salad is to add it to a wrap, perfect for an office lunch the next day!
Ingredients
1 cooked chicken breast, sliced
4 rashers smoked streaky bacon, cooked
1 small cos lettuce
Lucy's Creamy Caesar Dressing
2 Crosta and Mollica Piadina Flatbreads, classic
Salt and black pepper
Method
Roughly shred the lettuce, place in bowl and dress with the Caesar dressing.
Place a large frying pan over a hot heat. Place the flatbreads in one at a time and cook for 1 minute each side.
Place the flatbread on a large board and top with the dressed lettuce, chicken and bacon. Drizzle over some extra dressing and season with salt and pepper. Roll up the flatbreads, cut in half and serve immediately.