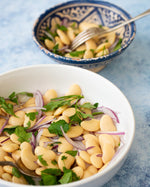 Sometimes simple really is best! This butter bean, red onion and parsley salad is super simple to make but makes an absolutely delicious side dish and is guaranteed to be a real people pleaser.
Ingredients
500g jar of butter beans, drained and rinsed
1 small red onion, finely sliced
Lucy's Original French Dressing
Large bunch of flat leaf parsley
Salt and black pepper
Method
Place the butter beans with the onion in a large bowl. Generously pour over the dressing and season with salt and pepper. Leave for an hour at room temperature for the beans to absorb the dressing.
When ready to serve stir through the parsley.