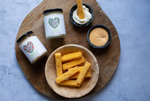 TRUFFLE POLENTA CHIPS
300g instant polenta
100g unsalted  butter
75g  parmesan, finely grated
¾ tsp truffle oil
1 litre sunflower oil
Lucy's Mayonnaise
METHOD
Fill a medium pan with 1 litre of water and bring to the boil. Slowly pour in  250g of the polenta, whisking continuously. Reduce heat and cook for 3 minutes, stirring frequently, until the polenta is smooth and thick. Stir in the butter , a few cubes at a time ensuring that it is incorporated before adding the next batch. Add the parmesan and 1 tablespoon of salt. Mix well  and then cook gently , stirring continuously so that it no longer sticks to the side of the pan. Remove from heat and stir in the truffle oil. Transfer to a greaseproof lined baking tray (20 cm x 30 cm). Allow to cool then place in the fridge for at least 2 hours to set.

Flip the polenta out of  the tin and cut into  10cm x 2cm chips.  Roll the chips in the remaining polenta so that they are dusted on all sides.

Heat the oil until hot and then deep fry the chips in batches for 3- 4 minutes until golden. Drain on kitchen roll and sprinkle lightly with salt.

Serve with the mayo.