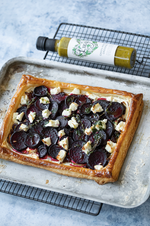 To celebrate our Green Pesto dressing being 20% off this month in Waitrose, we've created this delicious autumnal tart making the most of this beautiful dressing. Roasted beetroot and goats' cheese work fabulously here with the Green Pesto and it is super simple to make - the perfect weekend recipe! 
INGREDIENTS
25g butter
1 tbs olive oil
2 red onions, cut into  ½ cm slices
10g oregano leaves, chopped
1 packet ready rolled All butter puff pastry
100g ricotta
250g packet cooked beetroot, cut  into 3mm slices
150 g goats' cheese
1 egg, beaten
Lucy's Balsamic Dressing
METHOD 
Heat the butter and olive oil in a  medium pan. Add the onions and cook for about 10 minutes until softened and golden. Add 2 tablespoons of the dressing and cook for another minute or until most of the liquid has evaporated. Stir in the oregano and allow to cool.
Put  the pastry  on  a lightly floured  baking sheet. Create a border all the way around by lightly running a  knife 2 cm from the edge. Prick inside of the border with a  fork.
Spread the ricotta over the pastry  (inside the border).  Top with half the goats' cheese and then the onions. Arrange the beetroot slices on top  and crumble over the remaining goats' cheese. Brush the border of the pastry with the beaten egg and then chill the tart for 30 minutes.
Preheat the oven to 200c/  180 fan 
Place the tart in the oven and bake for 30 - 35  minutes until golden and cooked through.
Place on board and drizzle over a little dressing.