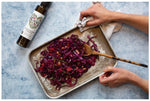 Lucy's Classic Balsamic 
65g Pancetta lardons
1 tbsp olive oil
2 eating apples, diced
1 tbsp rosemary
1 red cabbage, finely sliced 
1 tsp fennel seeds
100g prunes
Juice and zest of 1 orange
Heat the oil in a large pan. Add the pancetta and fry until golden. Add the rosemary and fry for a further minute. Remove the pancetta and rosemary from the pan. 

Add the remaining ingredients to the pan with 4 tbsp of Lucy's Classic Balsamic. Gently cook for 30 minutes, stirring frequently. 

Transfer to a serving dish and top with the rosemary and pancetta.