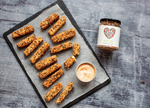 These tofu chips are seriously easy to whip up and totally moorish! We've coated them in panko breadcrumbs to make them extra crisp. Our new vegan chilli mayonnaise is the perfect accompaniment for these, and you can pick up a jar as part of our new 'vegan mayonnaise bundle' available on our website.
INGREDIENTS
300g firm tofu
75g flour
2 eggs, lightly beaten
75g Panko breadcrumbs
2 tbs each of Black and White sesame seeds
1 tsp ground cumin
Salt and pepper
Sunflower oil for frying
Vegan Chilli Mayo to serve
METHOD
1. Pat the tofu dries with kitchen roll. Cut the block into 1 ½ cm thick slices then in half again to make chips. If any excess water pat dry again.
2. Put the flour and eggs in separate bowls and season. Put the sesame seeds and chilli in another bowl.
3. Toss the tofu chips in the flour, then the eggs and then coat in the seeds, pressing them firmly on.
4. In a large frying pan heat 1 cm of the oil and cook the chips until golden and crisp on all sides. Drain on kitchen roll and sprinkle over a little salt.
5. Serve immediately with the Chilli Mayo.