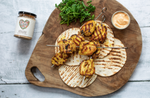 Delicious griddle chicken thigh skewers, with a good dollop of our brand new lime and chilli mayonnaise for a fiery punch perfect for a cosy night in! 
INGREDIENTS
450g boneless chicken thigh fillets
125ml coconut cream
1 tbs finely grated ginger
1 clove garlic, crushed
1 tsp ground cardamom
1 tsp turmeric
1 tbs olive oil
4 small wraps, lightly charred
1 green chilli, seeded and thinly sliced or dried chilli
Lucy's Lime and Chilli Mayo 
METHOD
1. Place the chicken, coconut cream, ginger, garlic, cardamom, turmeric, oil in a large bowl and mix to combine. Cover and place in the fridge for an hour or overnight.
2. Heat a griddle pan over a high heat. Add the chicken and grilled for 3- 4 minutes on each side until chard and cooked through.
3. Serve the chicken in the wraps with mayo and some extra chilli. 
You can pick up a jar of our delicious new mayo here!