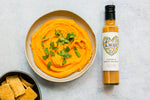 A blend of sweet potato, cannelini beans, tahini, garlic, lemon juice and Lucy's Ginger and sesame dressing… for that extra hint of deliciousness, of course! Easy and vibrant, it's perfect for snacking on throughout the autumn and winter months, especially when dunked with Soffles Pita Chips.
INGREDIENTS
1 large Sweet potato
1 tin Cannelini beans, drained and rinsed
2 tbsp Tahini
1 clove Garlic
Juice ½ Lemon
Lucy's Ginger and Sesame Dressing
½ tsp Black sesame seeds
½ tsp White sesame seeds
1 tbsp roughly chopped Coriander
Soffles Pita Chips
METHOD
1. Preheat the oven to 200c / 180c Fan.
2. Wrap the sweet potato in foil and bake for about an hour until soft. Allow to cool.
3. Spoon the sweet potato flesh into a food processor and add the tahini, garlic, lemon juice and 2 tbs of the dressing. Season with salt and pepper and whizz until smooth. Spoon onto a shallow bowl and top with the sesame seeds, coriander and an extra drizzle of the dressing, Serve with Pita Chips.