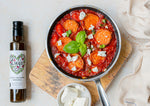 Roasted sweet potatoes simmered in a rich sauce of tomatoes, garlic, spices and a good drizzle of Lucy's Great Taste Awarded Balsamic Dressing. Crumbled with feta, scattered with fresh basil leaves, then dunked with crusty ciabatta, this comforting brunch dish will warm the soul throughout the winter. Omit the cheese to make it vegan.
INGREDIENTS
1 large, Sweet potato, cut into 2 ½ cm thick rounds
3 tbs Olive oil
2 Garlic cloves, peeled and thinly sliced
½ tsp Chilli flakes
200g Passata
½ tsp Caster sugar
100g Chopped tomatoes
Handful Basil leaves, roughly chopped
75g Feta or Mozzarella
METHOD
1. Preheat the oven to 220 c / 200 fan.
2. Place the sweet potato slices on a large baking sheet lined with greaseproof and drizzle over a tablespoon of olive oil and season with salt and pepper. Mix well to combine. Place in the oven for 30 minutes, turning half way through until softened and lightly coloured.
3. Meanwhile make the sauce. Heat the remaining oil in a medium frying pan. Add the garlic and cook, stirring occasionally for 2 minutes until lightly golden. Add the chilli and cook for a further minute. Turn down the heat until medium and add the passatta, sugar, tomatoes, 100 ml water and season with salt and pepper. Cook for 15 - 20 minutes until the sauce has thickened and the tomatoes have softened.
4. Stir through most of the basil. Add the sweet potatoes and cook for a further 10 minutes. Crumble over the feta or mozzarella, remaining basil and drizzle over the dressing.