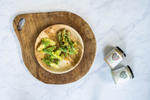 1kg Prepared Seasonal Vegetables (Asparagus, courgette flowers, peas in pods)
80g Self Raising Flour
80g Cornflour, plus a little extra
210g ice cold Sparkling Water
1½ tbsp of either Chilli Flakes or Black Sesame Seeds
1 tsp Flaked Salt
Sunflower Oil for deep frying
METHOD
 Prepare the vegetables.
In a large bowl whisk together the flours, water, chilli / sesame seeds  until the mixture comes together.
Heat the oil in a large pan until 180c .
In  batches , toss the vegetables in the remaining cornflour and then dip in the  batter. Shake off the excess and then fry for 1 - 2 minutes until crisp and pale golden. Transfer to a rack lined with kitchen paper and sprinkle with salt.
Serve with Lucy's Vegan Chilli Mayo.