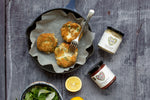 Our delicious Smoked Mackerel and spinach fishcakes are a perfect midweek meal, and ideal if you've got some leftover mash or fish. We love to serve ours with Lucy's Blushing Beetroot Relish as the beetroot and horseradish perfectly compliments the flavours.
Ingredients:
Lucy's Blushing Beetroot Relish
400g mashed potato
250g smoked mackerel fillet
100g baby spinach , wilted
2 tbs plain flour,
1 egg, beaten
85g dried breadcrumbs
Method 
In a large bowl mix together the potato, mackerel and spinach. Season with salt and pepper and shape into 4 large or 8 small even -sized cakes.
Roll the fishcakes in the flour, shaking off any excess, then dip in the egg followed by the breadcrumbs. Cover and chill until ready to cook.
Gently fry the fishcakes for 5 minutes on each side until crunchy, golden and hot all the way through.
Serve the Fishcakes with Lucy's Blushing Beetroot and a wedge of lemon.