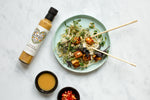 This delicious baked chilli tofu with kale and noodles is the perfect way to spice up your midweek meals. So quick and easy to make and the leftovers are great for your lunchbox the next day too!
 INGREDIENTS
 Lucy's Ginger and Sesame Dressing
250g Tofu cut into 2cm slices
1 tbs chilli jam (we love Tracklement's chilli jam for this) 
1 tbs orange juice
1 tbs sunflower oil
100g noodles
150g baby kale
1 spring onion, finely sliced
25g salted roasted peanuts, roughly chopped
Wedges of lime to serve
METHOD
Preheat the oven to 200 c.
Place the chilli jam, orange juice and oil into a small bowl and mix to combine.
Place the tofu on a baking sheet lined with grease proof paper and spoon over the chilli jam mix. Bake for 20 minutes or until golden
Cook the noodles in a large saucepan of boiling water for 3 - 4 minutes or until al dente. Drain and refresh under cold water.
Place the noodles, kale and spring onions in a large salad bowl and gentle too together with the dressing. Divide between two bowls and top with the chilli tofu and peanuts and serve a wedge of lime.