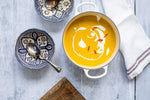 This delicious, warming soup is perfect for those grey, drizzly evenings we're seeing so many of at the moment. Delicious served by itself or with some gently warmed, fresh sourdough chunks for dipping.
Ingredients: 
Lucy's Lime and Chilli Asian Dressing 
1 butternut squash, cut into wedges and seeds removed
1 large onion, finely chopped
2 tbsp coconut oil
400ml coconut milk
500ml vegetable stock
Coconut yoghurt
Handful of fresh coriander, leaves roughly chopped
1 fresh chilli, sliced. 
Method:
1) Preheat the oven to 220c/
2) Place the butternut on a large baking tray and drizzle over the dressing. Place in oven and roasted for 45 mins or until lightly charred and soft.
3) Meanwhile, heat the coconut oil in a large saucepan and cook on a very low heat until the onions are soft.
4) Add the roasted butternut to the onions and stir to combine. Pour in the coconut milk and stock and bring to the boil. Simmer gently for 15 minutes.
5) Blend the soup using a hand held blender or in a food processor. 
6) To serve reheat the soup gently and ladle into bowls. Top with a spoonful of yoghurt and sprinkle over the coriander and chopped chillis.