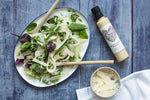 Super simple and delicious, this salad is a real winner for the winter months when salads are often (sadly) neglected. Perfect as a lighter side dish for weekend dinner parties or with your roast as we move into these fresher, spring days.
Ingredients: 
Lucy's Original French Dressing
1 medium Fennel Bulb
100g Rocket, Watercress and Spinach Salad
Block of Parmesan for shaving
 Method:
Slice the fennel very thinly using a mandolin and place in large salad bowl.
Toss the fennel together with the leaves and the dressing.
Finish by shaving over the Parmesan.