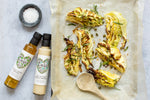 Roasted cabbage wedges with tarragon and capers - so simple but utterly delicious!
INGREDIENTS
Lucy's Classic House Dressing
Lucy's Light and Tangy French Dressing
1 sweetheart cabbage, remove outer leaves and cut into  8 wedges
Handful of tarragon leaves
Handful of capers 
METHOD
Preheat the oven to 220c
Place the cabbage on a baking tray lined with parchment and pour over the Classic House dressing . Season with salt and pepper and toss well to coat.
Roast the cabbage in the oven for 25 minutes or until crisp and golden.
Transfer to a serving plate and sprinkle over the tarragon and top with capers before drizzling with the Light and Tangy French dressing.