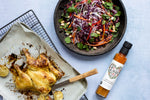 Delicious spatchcocked poussin has been marinated in our Lime and Chilli Asian dressing for the perfect Friday night treat! We've served it with our Asian inspired slaw and if you really want a feast, why not serve it with our sweet potato wedges?
INGREDIENTS: 
Lucy's Lime and Chilli Asian Dressing
1 Poussin 
Wedges of lime to serve 
2 Carrots, julienned
2 Beetroot, julienned
¼ of Red Cabbage, finely sliced
¼ of White Cabbage, finely slice
1 small Red Pepper, de-seeded and finely sliced
½ small red onion, finely sliced
Large handful of  Mint leaves, roughly chopped
Large handful of Coriander leaves, roughly chopped
25g cashew nuts, lightly toasted
2 Large Sweet Potatoes, peeled and cut into 1 ½ cm thick chips
1 tbs Hot Paprika
20g Polenta
3 tbs olive oil
METHOD:
Preheat the oven to 200 degrees. 
To spatchcock a poussin place on chopping board breast side down. Using a sharp pair of scissors cut close to each side of the back bone to remove. Turn the poussin over and push down with your hand to flatten the bird. 
Place the poussin in large roasting tin and drizzle generously with the dressing and rub all over. Season with salt and pepper. Make sure the poussin is breast side up. 
Place the poussin  in the oven and roast for 45 minutes.
Place the sweet potato into a large bowl. Mix together the Paprika, Polenta and olive oil and pour over the potatoes .
Transfer to a baking tray lined with grease proof paper and roast for 30 minutes, shaking half way through cooking.
Place the carrot, beetroot, cabbage, red pepper, onion and most of the herbs into a large salad bowl. Toss lightly with a generous amount of dressing and top with reserved herbs and cashew nuts.
Serve the poussin with the sweet potato chips and slaw for the ultimate Friday night feast!