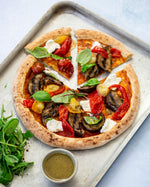 This delicious pizza is a great treat for the summer holidays and is the perfect was to get kids involved in the kitchen! As a quick cheat, we've used a pre-made pizza base and then topped it with a few of our fave things before drizzling with our Green Pesto dressing.
Ingredients
Crosta and Mollica Tomato Pizza base
75 g Isle of Wight Tomatoes, cut in half
1 small aubergine 
1 ball Buffalo Mozzarella
Basil
Extra Virgin Olive Oil
Lucy's Pesto Dressing


Method:
Preheat the oven to 200c.
Slice the aubergine into thick slices and cook on a griddle pan
Place the pizza base on a baking sheet, drizzle with olive oil and season with salt and pepper. Place in oven for 10 -12 minutes or until the base is crisp.
Tear over the mozzarella and top with the aubergine, tomatoes and basil.
Drizzle over the Pesto Dressing and serve immediately.