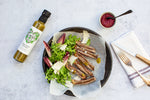 We're so excited that our newest dressing, Green Pesto, launched into Waitrose this week nationwide and online! We thought we'd compile some of our favourite ways to enjoy this dressing, to give you all some summer inspiration to add that extra dash of deliciousness to almost any dish! 
Jersey Royal Potatoes with Peas and Quails Eggs
Ingredients
12 Quails Eggs
110 g petit pois (frozen)
500 g Jersey Royal Potatoes
Lucy's Pesto Dressing
2 tbs mint, roughly chopped
Method
Place the Quails Eggs in a small pan, cover with cold water and bring to the boil. Simmer for 1 - 2 minutes depending on how hard you like them cooked. Drain, refresh in cold water and peel. Set aside.
Blanch the peas in boiling water for 30 seconds, then drain and refresh in cold water. Set aside.
Place the potatoes in a pan, cover with water and bring to the boil. Simmer for 15 - 20 minutes until tender. Drain and cut in half lengthways. Add to serving bowl and toss together with the pesto dressing and peas. Season with salt and pepper.
Cut the eggs in half and gently fold into the salad and sprinkle over the mint.
Roasted Vegetable and Mozarella Pizza 
Ingredients
Crosta and Mollica Tomato Pizza base
75 g Isle of Wight Tomatoes, cut in half
1 small aubergine 
1 ball Buffalo Mozzarella
Basil
Extra Virgin Olive Oil
Lucy's Pesto Dressing


Method:
Preheat the oven to 200c.
Slice the aubergine into thick slices and cook on a griddle pan
Place the pizza base on a baking sheet, drizzle with olive oil and season with salt and pepper. Place in oven for 10 -12 minutes or until the base is crisp.
Tear over the mozzarella and top with the aubergine, tomatoes and basil.
Drizzle over the Pesto Dressing and serve immediately.
BBQ Steak Salad with Parmesan and Basil
Ingredients
225g Beef Sirloin Steak
1 tbs Olive oil
1 Red Chicory
30 g Rocket
20 g Basil leaves
50 g Parmesan
Lucy's Pesto Dressing
Salt and Black Pepper
Method
Heat the BBQ to a high heat.
Rub the steak with olive oil and season with salt and pepper. Place the steak on the BBQ and sear for 2 minutes on each side (medium rare). Remove from BBQ and set aside to rest for 5 minutes.
Place the chicory, rocket and basil leaves in a serving bowl and dress with the pesto dressing.
Slice the steak against the grain into ½ cm slices. Add the beef to the salad, shave over the Parmesan and serve at once.
Marinated Romano Peppers with Buffalo Mozzarella
Ingredients
4 Romano peppers
2 tbs olive oil
Lucy's Green Pesto Dressing
1 bag Steve's Leaves - Baby watercress and Littles Leaves (optional)
200 g Buffalo Mozzarella
Large handful of basil leaves
Salt and Black pepper
Method
Preheat the oven to 200c.
Place the peppers on a roasting tin and drizzle over the olive oil. Season with salt and pepper and roast for 20 minutes or until they are soft and have taken on some colour. Place in a shallow dish and generously drizzle over the dressing. Set aside for at least an hour to marinade.
Top the peppers with the salad leaves. Break the mozzarella into large pieces  with your hands and dot it over the peppers. Drizzle over a little extra dressing and season with salt and pepper.
If you fancy getting creative with your dressings remember to tag us and we'll send a bundle of Lucy's goodies to our favourite tags! 
Lucy's Dressings x