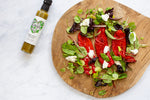 Our newest dressing, Green Pesto, is now available in Waitrose nationwide and is utterly delicious drizzled over roasted romano peppers and mozzarella - the perfect option for a lighter summer supper.
Marinated Romano Peppers with Buffalo Mozzarella
Serves 4
Ingredients
4 Romano peppers
2 tbs olive oil
Lucy's Green Pesto Dressing
1 bag Steve's Leaves - Baby watercress and Little Leaves (optional)
200 g Buffalo Mozzarella
Large handful of basil leaves
Salt and Black pepper
Method
Preheat the oven to 200c.
Place the peppers on a roasting tin and drizzle over the olive oil. Season with salt and pepper and roast for 20 minutes or until they are soft and have taken on some colour. Place in a shallow dish and generously drizzle over the dressing. Set aside for at least an hour to marinade.
Top the peppers with the salad leaves. Break the mozzarella into large pieces  with your hands and dot it over the peppers. Drizzle over a little extra dressing and season with salt and pepper.