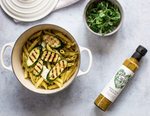 INGREDIENTS
300 g penne pasta
2 tbs olive oil
3 courgettes cut on the diagonal into 1 cm slices
1 ball buffalo mozzarella bocconcini
Lucy's Green Pesto Dressing
METHOD
Heat a large pan of water until boiling. Add the pasta and cook for 12 minutes until al dente.
Heat the oil in a large frying pan. Fry the courgettes in batches for about 3- 4 minutes, turning once, until golden on both sides.
Drain the pasta and return to the pan. Stir in a generous amount of dressing.  Gentle stir in the courgettes and mozzarella and spoon into bowls. 
This would also be delicious cold as a pasta salad too for delicious lunches to have whilst working from home.